Bramble Craddock Award Winner, Vadim Kasner!

As part of our Heart of PBB Awards, we launched the new category, The Bramble Craddock Award in honour of our highest donating dog who sadly passed away last year, Bramble. We're pleased to announce that the first ever winner of this award is Vadim!
Vadim is now a retired donor with PBB as he recently celebrated his 9th birthday. It was a difficult decision with so many deserving lifesavers entering but Vadim's progress and his owner Charlotte's dedication blew our judges away.
Vadim became a donor with PBB in 2014. He had a bad start in life. Vadim's owner had no idea how to look after him and chained him in a yard for his first 3½ years. When Charlotte brought him home, he was a bag of bones covered in a filthy coat that had never been groomed. Charlotte was told that he was untrainable and Vadim's vet thought he had been kicked frequently by his previous owner.
14 weeks later, Vadim passed his Kennel Club Good Citizens Bronze test and later his silver. He won Best in Show in his first pedigree class at Surrey County Show and added 12 more BIS and several RBIS rosettes and trophies to his collection. He even managed to win a rosette for formal obedience. By the time Vadim was in his second year of his new life with Charlotte, he had become a Pets as Therapy visiting dog and even represented the charity at Crufts. Vadim and Charlotte have also raised thousands of pounds for different charities at dog shows and events across the country!
Charlotte was over the moon to hear the news that Vadim was our first winner, she said:
"I am immensely proud of Vadim and would like to thank PBB for honouring us and Maria Craddock for generously instituting this award. I hope that, in winning this award, he will inspire other owners not to give on dogs who have been regarded as untrainable as well as encouraging owners with suitable dogs to consider getting involved with PBB."
Host Venue Category Winner – Lawrence Veterinary Centre
Our winner of the Heart of PBB Award in the Host Venue Category is Lawrence Veterinary Centre! Since 2013, Lawrence Veterinary Centre has supported us by holding sessions and raising awareness of PBB.
They have displays in their reception to spread the word and hold sessions outside normal practice hours to ensure the PBB team has all the space we need and a relaxing environment for our donors. The team at Lawrence also have volunteers to help us on the day and provide refreshments for those attending.
Thank you for all of your support Lawrence Vets! Amy coordinates the session at the practice and she was delighted to have won the award. She said:
"Working in a first opinion practice means that it's not very often we find ourselves in the situation of needing blood urgently to perform a transfusion but we felt by becoming a host venue for PBB, this would develop our involvement in transfusion medicine and we wanted to support the vital work that PBB do every day.
"We find that many people are still unaware of PBB and the lifesaving donation sessions that happen across the UK every week. We're proud to be hosting sessions and raising awareness of the constant need for suitable canine donors. A big thank you to PBB for the award!" 
Fundraising Category Winners - Chelsea Longstaff, friends and family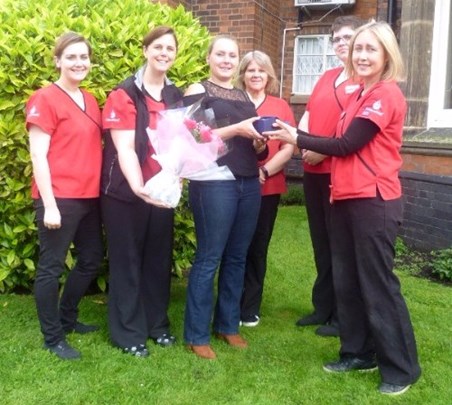 Well done to Chelsea, Hayley, Claire, Kerry, Tracey, Graham, Eddy, Daniel, Paul and Emma for winning the fundraising category in our Heart of PBB Awards!
Chelsea undertook the massive task of organising a trip with 10 friends and family members to North Wales. To raise money for PBB, the group undertook 8 hours of gruelling 'mine dwelling'. They completed several traverses above abyss', abseiled into darkness, climbed up slate walls and stomped through flooded walkways. The scariest part of all of this though, according to Chelsea, was a 70ft free fall, again in total darkness! Our judges were amazed at the efforts that Chelsea and the team had gone to, to raise a whopping £1400 for PBB and we are so grateful for their support.
We presented Chelsea with the award at Chine House Veterinary Hospital and she was so pleased to receive it. A big thank you again to everyone who took part and raised vital funds for PBB!