Meet our 2017-18 Heart of Pet Blood Bank Award Winners
The Bramble Craddock Award Winner: Breeze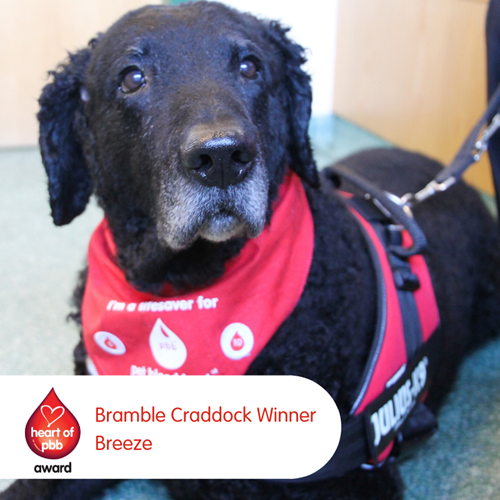 The Bramble Craddock Award was launched in honour of one of our highest donating dogs who sadly passed away. Bramble was a very special dog, who like many of our donors, will forever be at the heart of Pet Blood Bank. This year the Bramble Craddock Award goes to another very special dog, Breeze. Breeze started donating after her sister Hope needed six units of blood. She donated 16 times before retiring, and her sister May is now following in her footsteps as a blood donor. Not only was Breeze a lifesaver for Pet Blood Bank, she's also been a huge support to her family during tough times, helped her owner to train rescue dogs by building their confidence, and taken part in multiple fundraising walks to raise money for various charities. She really is an all round heroine and a very deserving winner of this award.
Fundraising Award Winner: Colin Stewart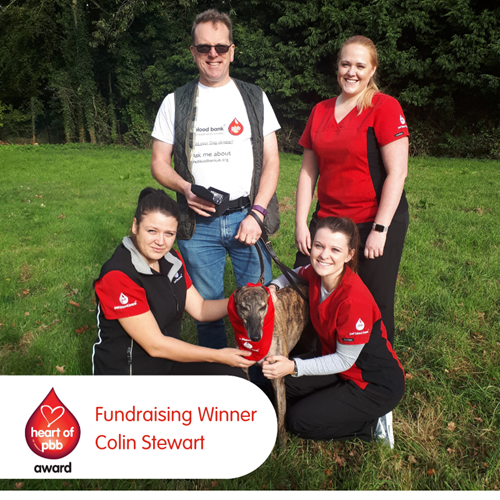 Colin was the owner of a beautiful greyhound called Millie who had an autoimmune condition that meant she needed regular blood transfusions to keep her healthy. These transfusions allowed Millie to live a normal life and it was only ever a few days before a scheduled transfusion that she would begin to slow down. As Pet Blood Bank supplied the blood for Millie, Colin wanted to do something to help make a difference and set himself the challenge of going alcohol free for the month of January. A hard enough challenge as this can be, sadly Millie passed away mid-January, but Colin stuck to the challenge and managed to raise a fantastic £460.
In addition to his fundraising, Colin is a true ambassador for Pet Blood Bank, telling everyone he knows about the charity as well as attending events and encouraging those with big dogs to register. Colin has since rehomed another greyhound, Misty, who now donates with Pet Blood Bank as well.
Volunteer Award Winner: Victoria Lamb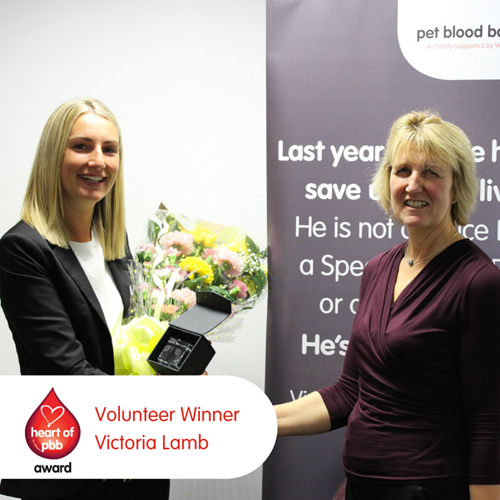 Victoria is a regular volunteer at the Edinburgh University donation session and really goes out of her way to ensure it is a great experience for both owners and donors. She is welcoming and friendly and always makes a real fuss of all the dogs. Victoria is a fantastic ambassador for the charity from helping to raise awareness to recruiting new donors and making sure the sessions run smoothly. Victoria has been instrumental in helping to recruit, train and retain new volunteers as well as helping two girls achieve their Duke of Edinburgh Award. Through her employer, Victoria has also been able to present a donation of £250 to the charity in addition to her time as a volunteer.
Host Venue Award Winner: Milton Keynes Veterinary Group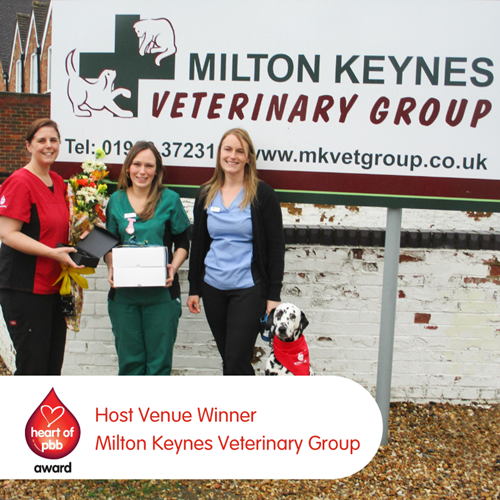 Without the help of our host venues, we wouldn't be where we are today, and Milton Keynes Vet Group has been a fantastic support to us. Since coming on board as a host venue nearly three years ago, the practice has worked tirelessly to promote Pet Blood Bank. They have made the most of media opportunities, hosted puppy parties, and raised awareness of the charity during routine client appointments, all of which has helped make every session held at the practice successful. The team at the practice are an absolute pleasure to work with and our team always look forward to the session. They really go above and beyond to make the sessions a great experience for our donors.
A huge congratulations to all our winners!