Meet our 2019-20 Heart of Pet Blood Bank Award winners
The Bramble Craddock Award Winner: Mercury
The Bramble Craddock Award launched in honour of our highest donating dog who sadly passed away. Bramble Craddock was a very special dog, who, like many of our donors, will be forever at the heart of Pet Blood Bank.
Another very special dog is Mercury, who we want to recognise along with his owner Claire, as the winner of the Bramble Craddock Award. As well as donating 28 times to Pet Blood Bank, and on several more occasions for emergencies, Mercury is a therapy dog for children with disabilities. He's also attended events to help raise awareness and has done lots of fundraising for us. His kind, gentle and loving approach make him stand out as a fabulous dog who is loved by so many, and especially by his owner Claire who he has been with through some difficult times, always there to make her smile.
We'd like to say a huge thank you to Mercury and Claire for all their hard work, passion and commitment to Pet Blood Bank. Congratulations and well done!
Fundraising Award Winner: Lime Trees Vets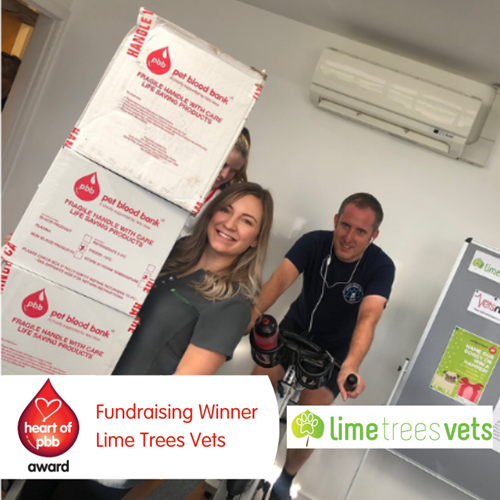 The team from Lime Trees Vets in Stoke-on-Trent are the well deserving winners of our Fundraising Award. Lime Trees organised a spinathon to raise money for Pet Blood Bank in October 2019. They got the whole practice involved and took it in turns to cycle on the stationary bikes for a continuous 36 hours! In total, £1,780 was raised. The enthusiasm shown by the practice for this event was outstanding. They really went the extra mile to make it into a big, fun event.
As a small charity, every drop counts, both in blood and funds, and Lime Trees Vets has done an outstanding job of helping to fundraise for us. We are so grateful. Thank you.
Volunteer Award Winner: Nick Fountain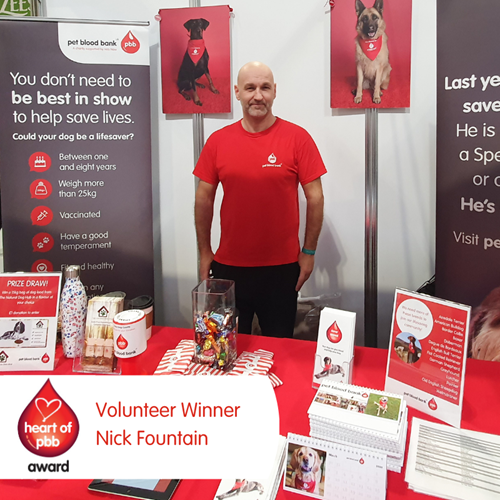 The fantastic winner of our Heart of Pet Blood Bank Volunteering Award this year is Nick Fountain. Nick volunteers at many of our donation sessions throughout the year and is a big advocate for us. He is absolutely invaluable to us while at donation sessions, helping in every way that he can and always with a big smile on his face. The passion for what we do really just spills out of him. He takes every opportunity he can to raise awareness and has even used his holiday time off work to support us at sessions and events.
Nick, your passion for supporting Pet Blood Bank is so clear and we really appreciate everything you have done and continue to do for us. A huge thank you and well done.
Host Venue Award Winner: Dick Vet - Hospital for Small Animals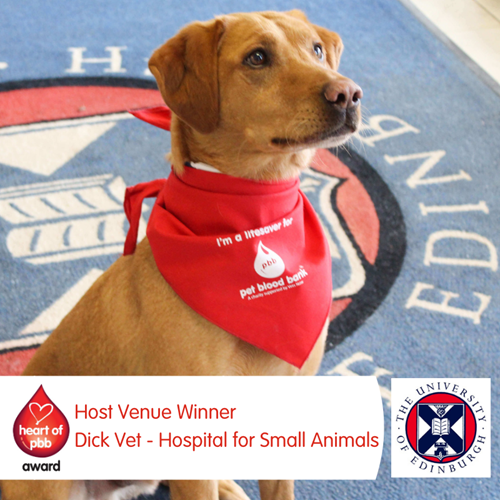 The winner of this year's Host Venue Award is the Dick Vets Hospital for Small Animals at Edinburgh University. They have been hosting Pet Blood Bank sessions since 2015 and during this time, have grown them into amazingly successful events! Their donation days are always extremely well-attended, which is attributed to the practice constantly spreading the word and recruiting donors. They provide such a wonderful environment for our donors to visit and the whole practice team have really got on board, with lots of the team now attending sessions as part of our Pet Blood Bank team or as lovely, helpful volunteers.
We are extremely grateful for all your support and for continuing this throughout the pandemic. A big well done and thank you to the whole team!
Ambassador Award Winner: Marie Dennis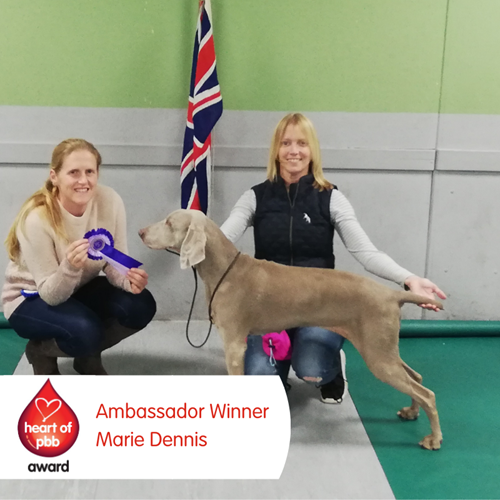 The fantastic winner of our Heart of Pet Blood Bank Ambassador Award this year is Marie Dennis. Since a blood transfusion saved her 13-year-old Weimaraner Grace, Marie has made it her personal mission to raise awareness, funds and donors for Pet Blood Bank. In doing so, she has represented us on the Weimaraner Discover Dogs stand with her three dogs, written an article about Grace's transfusion which was published in Your Dog as the double-page centre spread, and attended several local events to spread the word.
A huge thank you and well done, Marie.