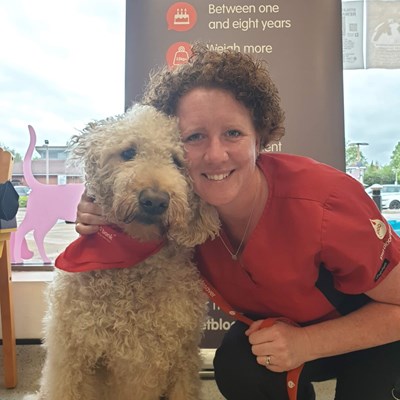 North West Regional Coordinator and Donor Assistant
Katie was a police officer for 15 years and a police dog handler for 10. She holds a Level 5 Diploma in Canine Behaviour Management. Katie started to work for Pet Blood Bank as a Donor Assistant after seeing the work they do when she took her own dog Blaze to donate at one of the sessions. Katie became the Regional Coordinator for the North West Area in 2021.
What Katie loves most about working for Pet Blood Bank:
'Having had one pet dog donate blood and one pet dog receive a transfusion of blood from Pet Blood Bank, I've seen first hand the amazing job the charity does. I will be forever grateful but it's even better to now be part of that team that makes it all happen.'
Katie works as a behaviourist and dog groomer alongside her role at Pet Blood Bank and is furthering her studies by completing a Level 6 Diploma in Clinical Animal Behaviour. Outside of work, Katie enjoys spending time with her two children and caring for her dogs, cats, and chickens.