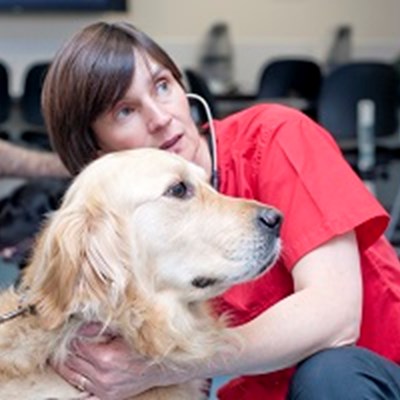 BVMS MRCVS - Veterinary Surgeon
Jan qualified from Glasgow Vet School in 1993, before starting work in practice in Ayrshire. The sunny climes then drew her over to practice in New Zealand and Australia for a year, before she returned to the UK to work in practice and in emergency clinics. Jan is now the Veterinary Surgeon for the Scottish Team whilst also in a Poultry Practice.
What Jan loves most about working for PBB:
'Knowing that what I'm doing is making a real difference to not only the lives of dogs but also to their families. Seeing regular donors come through the doors every 3-4 months and consistently give a pint of blood. Over time, the sessions have evolved from being solely about the dogs to now being a fantastic social event for their owners, which is great to be a part of.'
Jan enjoys baking in her spare time, and brings along treats to the Scottish sessions for all donor owners and staff to enjoy. When not at sessions, Jan juggles three children, two Vizslas (also donors), one cat, emus, peacocks and too many chickens!