Happy Retirement Flora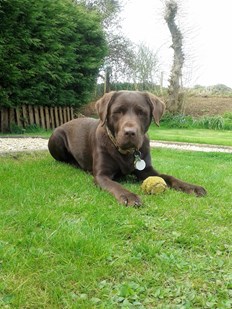 Flora is one of our donors who has recently retired as she was coming up to her ninth birthday! Flora donated an impressive 15 times before retiring and our team will miss seeing her every few months! Flora received a hamper, kindly donated by Henry Schein as part of our Donor Recognition Scheme. Here is how Flora and her owner Penny heard about PBB!

"We are terribly proud of Flora, especially as Chocolate labs aren't renowned for their ability to 'be calm'! She was known to fall asleep when she donated and sometimes even snored!

"Flora became a doggy blood donor because many years ago my mum's Leonberger Elsa needed blood. Her breeder had to drive several hours to bring Elsa's mum and aunt to donate blood to help Elsa. Sadly she did not survive, and so when a friend told me about PBB back in 2009 or 2010, I was desperate for Flora to give it a go.

"Our first donation was in High Wycombe and involved a five hour round journey but I was delighted that she was calm and managed to give her unit. Thankfully the next time she donated, PBB was holding a session in Bristol, which was only an hour away. She then went to donate at Vets Now Swindon, which was only a 35 minute drive away. 

"Flora donated 15 times and I am thrilled that her donations have made life easier than my poor mum experienced with Elsa. I know that whenever we have a new addition that dog too will become a donor. Her donations could have potentially helped save the lives of up to 60 dogs. We are so thankful to Henry Schein for their very generous gifts. We were thrilled and overwhelmed by the kindness. I posted it on my Facebook page and all my friends have seen how lovely it was; I hope that it will encourage some of them to get involved."
Chester's Story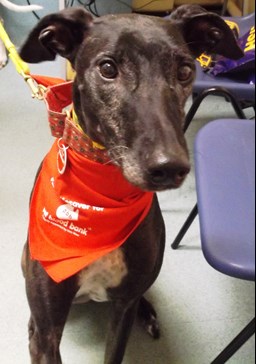 Andy brings his canine companion, Chester along to donate at Rutland House Veterinary Hospital and recently reached the impressive milestone of nine donations! Andy shared Chester's story:

"Chester came into the care of the Mersey and North Cheshire Branch of the RGT with a reputation of being aggressive. It was quickly realised this was all related to nerves, but it was an extreme case and kennels only made it worse. Because of this, I fostered Chester and he slowly improved, and after around a year, he did his first donation with Pet Blood Bank.

"He surprised everyone with how calm he was. His reputation preceded him but the calm, understanding and professional approach of the PBB team ensured that first donation was a success. There has now followed a further eight successful donations. To put it mildly, if this dog can donate, any dog can. He's still fear aggressive, even with the dogs he lives with and unpredictable with people but the PBB staff understand how to approach a dog and relax it."