Online CPD
As veterinary medicine develops, we believe that webinars are a valuable and important tool in helping educate the profession.
In line with our charitable aims, we will be producing a series of webinars for veterinary professionals which share our current knowledge of transfusion medicine and advancements within the field. We are pleased to announce that our eLearning platform is now available. Here you will find our first webinar which is titled 'Transfusion Medicine: where have we come in the last 10 years'. Delivered by Amanda Boag, Clinical Director of Vets Now, the webinar is free, will count as 1 hour of CPD and you will receive a certificate once completed. In this webinar, Amanda will discuss the advancement of transfusion medicine including literature and surrounding research in the field and how they may impact on the care of our patients.
Access our learning platform by clicking Here
If you have any suggestions of future webinars that you would like to see from PBB, please email leigh.grainger@petbloodbankuk.org. We would love to hear from you.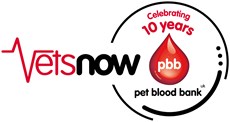 CPD Events
We provide speakers for conferences and events and hold our own CPD events from time to time. In addition to our annual CPD programme, we also attend veterinary events such as BSAVA. Please come and visit us - we'd be happy to answer your questions.
In order to support a better understanding of blood products and their uses, we're pleased to announce CPD events across the UK with Vets Now in 2017/2018. Each event will be focused on transfusion medicine and delegates will hear from a number of industry experts. Topics include the uses of blood products, blood typing and cross matching, canine and feline transfusions and case studies.  
26th September - Durham
27th September - Liverpool
1st February - Central London 
22nd March – Sheffield
 For more information and to register for an event near you, please click here.