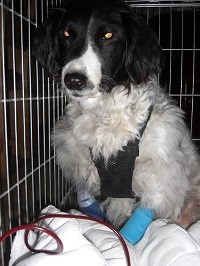 Name:
Poppy Morrison
Age:
7 years
Breed:
Border Collie x Springer Spaniel
Sex:
Female neutered
History:
Normally fit and well bouncy dog. Became dull and depressed.
Physical Examination:
Pyrexia and Jaundice. After blood sampling at the site of standard jugular blood sampling - severe bruising and bleeding all the way down her neck and chest, and the tops of her legs.
Lab Results:
Markedly increased liver parameters and bilirubin, off the scale clotting times.
Treatment:
9 units of FFP over three days until coagulation times normalised. Two units of PRBC to treat anaemia. Antibiotics and steroids.
Diagnosis:
Inflammatory cholangiohepatitis diagnosed from liver biopsy.
No specific causal agent identified. Paired titres for multiple serovars of leptospirosis did not implicate leptospirosis.
Outcome:
Weaned off medication two months post diagnosis, liver parameters normalised. Fit and well at follow up 12 months later.
As featured in Veterinary Times