As a charity, we need to raise funds to support the needs of our donors and recipients.
Efforts, big or small, from our fundraisers really do make a difference, and without the help of others, the charity would not survive. Our supporters go to great lengths (often quite literally!) to raise funds for us, and we've been overwhelmed and inspired by their efforts.
Here are a few simple ways you can help:
If you're a regular online shopper, you can raise funds (at no additional cost) by first going through these sites: easyfundraising or Your Megastore
Raise funds using a collection tin at work or at an event (with organiser's consent if required). To request a tin, please contact us
Or simply donate online through our Just Giving page 
To the more involved: 
Sign up for a sponsored challenge in your local area such as a walk or run
Perhaps challenge yourself to do something you've always dreamt of doing, from skydiving to white-water rafting the Zambezi River to trekking through the Himalayas - the choice is yours! 
Or even organise your own event... We've included some hints & tips to get you started
Some inspiration 
Caroline's Dressage Event
Caroline Howlett is one of our 'donor owners' who brings her canine companion and lifesaver, Flute to donate. Caroline took part in a competition with a difference and raised over £800 for PBB! Caroline took part in a dressage event with not only her horse Ella but her hound Flute too! Flute helped guide Ella through the walk, trot test and they even achieved a record score. 
Kate and Brian's High Climb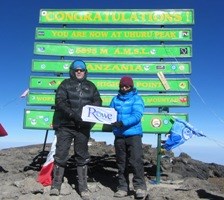 Kate James and Brian Hildick-Smith from Rowe Veterinary Group reached the summit of Mount Kilimanjaro in Tanzania in five-and-a-half days and smashed their target of £5,895 - the height of Kilimanjaro in metres - by raising £11,519.72 for two charities: Pet Blood Bank UK and Macmillan Cancer Support.
Kate and Brian selected PBB as one of their two charities, having used our services a few times and wanted to give something back.
Kate, who has worked at the practice for 13 years, said: "I wanted to do a bit of a challenge and try something a bit different, which I had never done before. We did open it up to other staff but we were the only two mugs who wanted to do it!"
Brian, a vet for more than 30 years said it had been the hardest thing he had ever done but was thrilled that they both completed the climb.
One of our Trustees, John Hill MVB MRCVS, visited Kate and Brian to receive the cheque and personally thank them for their exceptional and very generous contribution to Pet Blood Bank UK.
£5,808.61 was raised in this once-in-a-lifetime challenge.