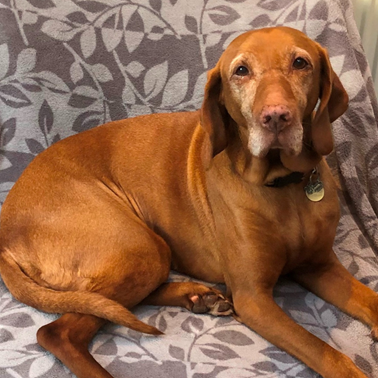 Amber, a lovely Vizsla, became very ill and lethargic on the morning of 31 March 2021. Her owners, Mark and Mo, made a quick call to the vets and then rushed her straight in to get checked over.
Upon arrival, a scan revealed a mass on her spleen, which urgently required surgery. The emergency surgery to remove her spleen was undertaken at Spinney Vets in Northampton. Unfortunately, internal bleeding continued following the surgery and Amber was suffering significant blood loss. The vets believed she had also ingested rodenticide. She received an emergency blood transfusion, and is now, thankfully, recovering well from the surgery.
Mark and Mo said, 'The quick delivery of matching blood from Pet Blood Bank and subsequent transfusion thanks to yourselves, alongside skilled veterinary work, definitely saved her life.'
'Thanks to your charity, Amber is still with us and making a good recovery. We had no idea you did such wonderful work to support vets and pets, so from all of us a huge thank you.'
Mark and Mo very kindly made a £200 donation to Pet Blood Bank after sharing Amber's story with us. A big thank you to them both.
Dogs like Amber need other healthy dogs to donate blood so that it is always there in an emergency like this. If your dog is aged between 1 and 8, over 25kg, and fit and healthy they could be a lifesaver. Visit our dog blood donation pages to learn more.