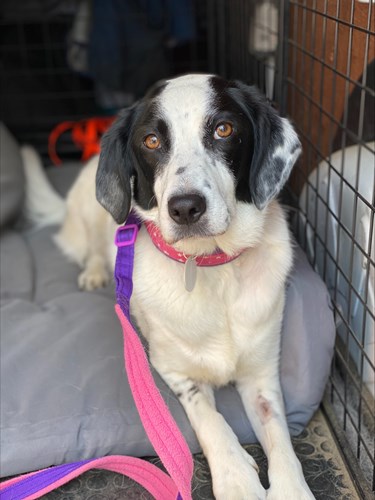 Bean is a busy and happy 5 year old Border Collie cross Springer Spaniel. She enjoys agility and is obsessed with balls!
But recently, Bean stopped being her usual bundle of energy and lost her appetite. Her owner Andrea knew immediately that something was wrong.
'She was not herself and stopped eating. We knew she was not well. She was diagnosed straight away with Immune-Mediated Haemolytic Anaemia (IMHA). She had less than 1/3 of the red blood cells she should have had and ended up needing a blood transfusion. Her condition kept deteriorating', Andrea said.
IMHA is a common condition that sadly affects many dogs. This condition is actually the most common reason for a dog needing a blood transfusion. The transfusion helps to boost the dog's red cell count until the medication has a chance to start working.
Andrea's vet immediately received the blood Bean needed and administered the transfusion. Since then, she has been steadily improving and we are pleased to say is well on the road to recovery.
Andrea contacted us to say thank you for the blood Bean received and wishes to pass on her thanks and gratitude to all the wonderful owners who allow their dogs to give blood.
Dogs like Bean need other healthy dogs to donate blood so that it is always there in an emergency like this. If your dog is aged between 1 and 8, over 25kg, and fit and healthy they could be a lifesaver. Visit our dog blood donation pages to learn more.