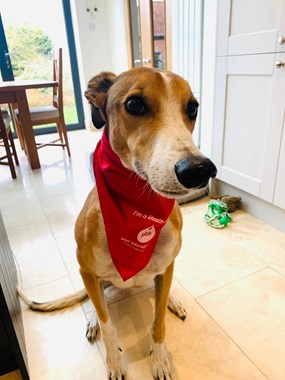 This is Cally, a very laid back greyhound who spends most of his day lounging about, interspersed with a few very fast laps of his local park. Cally's owners are both doctors and therefore fully understand the importance of human blood donation and are blood donors themselves. They were aware that dogs could be blood donors and a friend's dog recently required a transfusion after being hit by a car. After watching our feature on The One Show, their children were very keen to sign Cally up! They checked online and Cally met the criteria, so they registered him and received a call from one of our team.
Cally's owners said, 'They were great at explaining the process and very reassuring about how most dogs quite enjoy the process as they get so spoilt, but also how they would handle it if he didn't like it.'
Due to our coronavirus restrictions still being in place, Cally's owners couldn't take her into the donation centre but he was greeted by one of our veterinary team and was immediately at ease.
His owners said, 'He came out looking very happy, having happily donated a unit of blood with no problems. He was even given a new toy, some treats and a very cool bandana. He was absolutely fine following the donation. He drank a bit more that day but was otherwise his normal self.' They added, 'Our children are very proud of him and insist he wears his bandana on the school run to show everyone that their dog is a lifesaver.'
 If you think your dog could be a lifesaver just like Cally and make your family proud, visit our dog owners section to find out more.