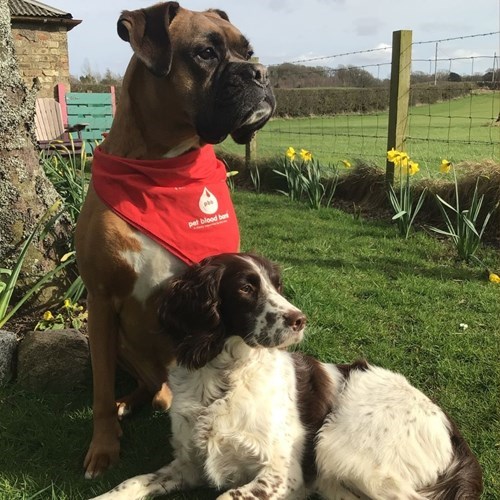 This is Carmen, a fun-loving Spaniel cross rescue, pictured with her brother Fender. Carmen belongs to one of our wonderful vet nurse/phlebotomists Susan Campbell. By day, Susan works at the Dick Vet Hospital for Small Animals in Edinburgh, but she also works for Pet Blood Bank in our Scottish team. This means she has lots of experience both in taking blood and administering transfusions, although nothing ever prepares you for when it is your own dog in need.
At the end of January, Carmen suddenly became very ill. She was admitted to the Dick Vet on a Sunday afternoon, straight into the intensive care unit. Carmen's immune system had started to attack her own red blood cells, a condition called Immune Mediated Haemolytic Anaemia (IMHA) which is one of the most common reasons for a dog needing a blood transfusion.
Medications and supportive care were started immediately but by the Wednesday, it was clear Carmen would need a blood transfusion. She received her first one that day, followed by a second on Thursday. This gave her red blood cell count a boost, allowing the medications to suppress her immune system and her blood cell count to remain stable. She was able to return home following this and continue her recovery in the company of her loving family.
Susan's other dog Fender, a boxer cross rescue and usually also a fun loving, high energy boy, was sulking for the whole six nights Carmen was in the vets. Fender has been a Pet Blood Bank donor since 2016 but as he had already given a full donation in December, it was too soon for him to donate again to help his sister. However, blood was available from Pet Blood Bank for both the transfusions Carmen needed, and Susan is so thankful to the dogs and their owners who helped to save her beloved Carmen's life.
Carmen's lifesaving donors were Ruby, a four year old German Shepherd, and Davy, a seven year old Greyhound, who had both recently donated to Pet Blood Bank.
To Ruby and Davy's owners, Susan said, 'The effort you made to bring your dog along to a Pet Blood Bank donation session meant that they could send a unit of packed red blood cells to the Dick Vet which helped to save Carmen's life. You and your dog are fabulous, and my family and I are extremely grateful that you take the time to support the vital work of this charity.'
Susan added, 'Obviously my thanks also go to the collection, processing, admin, and courier teams at Pet Blood Bank who ensured Dick Vet had blood in stock for Carmen's hour of need x 2! Keep up the good work. You are all amazing and play your part in saving lives.'
If you have a large, confident and happy dog who you think could be a lifesaver like Ruby and Davy, visit our dog owners section to find out more.