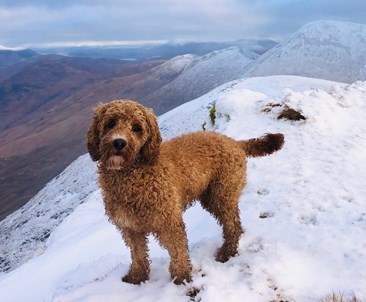 Meet 2 year old Cockerpoo Hana, who was recently involved in a horrible accident. Hana fell from the Salisbury Crags at Arthur Seat in Edinburgh whilst out on a walk with her owners Risa and James. Hana had fallen around 40 metres from the edge of the cliff and was disorientated and struggling for breath when her owners reached her. They made their way to the closest emergency vets, which was the Hospital for Small Animals at the Royal (Dick) School of Veterinary Studies, part of the University of Edinburgh, to get Hana looked over.
Upon arriving, Hana was immediately examined to determine the extent of her injuries. She had a collapsed lung, damage to her liver, and internal bleeding.
As Hana's accident was taking place, at the very same time across town at the Hospital for Small Animals, one of our donation sessions was running. When Hana was rushed in, donor dog Missy had just finished giving blood. Missy is one of our fabulous lifesavers who regularly gives blood and has done for several years.
Shortly after their arrival at the Hospital, Risa and James were told that Hana's internal bleeding was so severe that she needed an urgent blood transfusion and that their consent was required to proceed with this. It was at this moment that the severity of Hana's accident hit them. They agreed and Hana was given a unit of blood, the very unit of blood that Missy had given just an hour before.
Hana spent four days in intensive care before being allowed home to continue her recovery. Now, a few months later, Hana is back to her usual energetic and full of life self. You would never know what she had been through.
Risa said, 'We really can't thank everyone that was involved in saving Hana's life enough and will forever be grateful.'
Watch this clip to see the moment Hana and Missy met!
Dogs like Hana rely on blood being available in these life-threatening situations and we aim to ensure this is always the case. However, more dogs like Missy are needed to come forward and give blood to meet this aim. If your dog is fit and healthy, between 1 and 8 years old, weighs over 25kg, and is confident, they could become a blood donor. To help dogs like Hana, find out more about your dog becoming a donor or the other ways you can get involved.