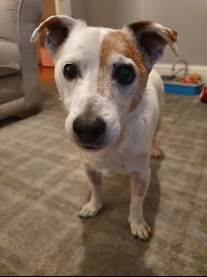 Back on Boxing Day 2020, Jack Russel Olly was very lethargic. His owner Annika thought he had just overdone the Christmas excitement, however, when he didn't improve the next day Annika started to get really worried. Olly now was refusing food and walks so Annika called the emergency vet for some advice.
Heather at Alma Vets in Scarborough took Olly in and diagnosed the problem very quickly; he had Immune Mediated Haemolytic Anaemia (IMHA) and his body was attacking its own red blood cells. Olly desperately needed blood and ended up receiving two blood transfusions within 24 hours. The blood was urgently sent from Pet Blood Bank in Loughborough to Scarborough. Thankfully, the transfusions were successful, and Olly went from barely being able to walk or hold his head up, to bounding about and wagging his curly tail again.
Over the following months and with the support of medication, Olly built himself back up and we are pleased to say he is now back to his usual mischievous self. Annika said, 'I will never be able to thank Heather, all the staff at Alma Vets and Pet Blood Bank enough.'
Dogs like Olly need other healthy dogs to donate blood so that it is always there in an emergency like this. If your dog is aged between 1 and 8, over 25kg, and fit and healthy they could be a lifesaver. Visit our dog blood donation pages to learn more.