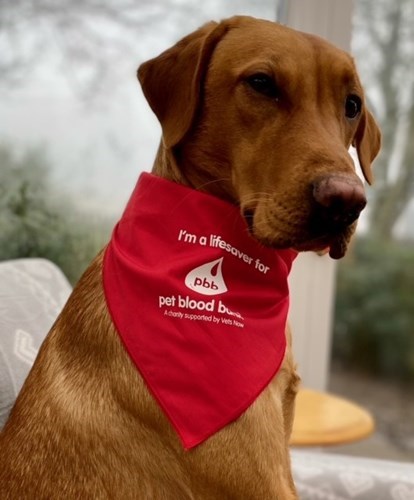 Meet Rannoch, a typical young, working type Labrador who is very strong and quite lively at times. He is the fourth dog of his owner Elaine's to become a blood donor with Pet Blood Bank. This meant Elaine was in the fortunate position of knowing exactly what happens during a donation session and was able to ensure that Rannoch was as prepared as possible.
However, Rannoch's first donation fell during the Coronavirus restrictions and so, he had to donate without Elaine by his side. To prepare him, Elaine did plenty of training and, because of his confident nature, knew he would be happy to go in with the team without her.
Elaine said, 'I was completely comfortable allowing Rannoch to go into the donation session alone. He is a very confident, happy young dog who loves people.' 'I also have complete trust in the team and was confident that they would look after him and stop the procedure if he was upset or unsettled.'
We thought it was important to share this story to highlight that young confident dogs who have never donated before, like Rannoch, can still make great lifesaving donors even when they need to come in on their own.
If you know anyone with a happy, confident dog who might make a suitable donor, but are worried about them coming into the session alone, share Rannoch's story with them to let them know how well he did coming in without Elaine.
Find out more about the types of dogs we need to come forward as donors.