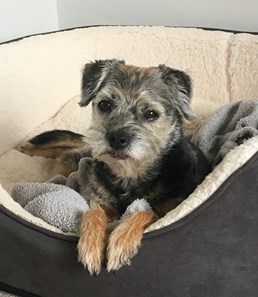 Meet Tilly, a 10 year old Border Terrier from West Yorkshire. She loves long walks, log fires and chicken. In 2019, she was diagnosed with Addison's Disease and having responded well to treatment, she was fit and healthy up until recently in August 2021. This was when Tilly suddenly became very unwell. Within 24 hours, she went from her usual cheeky, playful self to an ICU patient at Paragon Referrals in Wakefield. 
The vet quickly established that Tilly had a very low red blood cell count, which potentially pointed to Immune Mediated Haemolytic Anaemia (IMHA). She was deteriorating quickly and was given a blood transfusion that afternoon.
In the following days, Tilly underwent numerous tests and scans. They revealed no underlying cause for her IMHA, although she was found to have pancreatitis. Unable to eat, Tilly was fed through a tube for a week. Seriously ill, she was allowed a visit from her desperately worried owner Emma and shortly afterwards, she began to turn a corner.
After ten long days in ICU, Tilly was still very frail but out of danger and her wonderful vet Andrea considered her well enough to be cared for at home, much to the relief of Emma. Thanks to their superb treatment and medication, Tilly is continuing to progress and is doing well.
Emma said, 'There is no doubt the blood transfusion she received on her first day in hospital saved her life, for which we will be forever grateful.'  
Dogs like Tilly need other healthy dogs to donate blood so that it is always there in an emergency like this. If your dog is aged between 1 and 8, over 25kg, and fit and healthy they could be a lifesaver. Visit our dog blood donation pages to learn more.