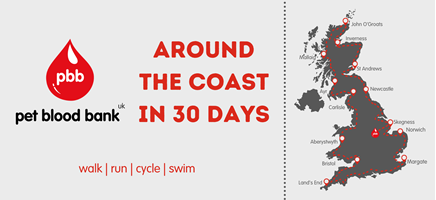 We are excited to announce the return of our virtual fundraising challenge for its second year: Around the Coast in 30 Days!
But, this time, it's taking place in May.
Join us by walking, running, swimming, or cycling as we aim to reach 11,232 miles together across the month. Every mile you do will count towards our collective target. It's all about working together to do as much as we can to complete our virtual journey.
You can take part as a team; either working together to complete as many miles as you can (and competing against other teams) or competing against each other to see who can do the most miles.
Starting on Sunday 1 May, our 11,232 mile virtual route starts and ends at our blood bank in Loughborough, going all around the UK mainland coastline. By working together to travel around the coastline, this challenge represents the vast distance we cover every year to provide our lifesaving service. It is a challenge that is both meaningful to our charity and fun to take part in.
Challenge details
Everyone taking part works together to reach our 11,232 mile target
Our fundraising target is £10,000!
For each mile you complete, aim to be sponsored £1: 50 miles = £50 sponsorship
You can walk, run, swim, or cycle to complete your miles
You can set yourself a target distance to complete, or just keep doing as much as you can until we reach our target. Being signed up and ready to go by 1 May gives you the best chance of accumulating more miles
Miles can be recorded via Strava which can link directly to your fundraising page, or you can add these manually
You can take part as an individual or team
Taking part as a team means you can set a collective target to reach together or all compete to see who can do the most miles across the month. You can also compete with other teams for the top spot on our team leaderboard.
Dogs are welcome too! Record your distance while out on dog walks to easily get those miles in. We'd love to see photos of dogs getting involved.
Last year, we completed 4,601 miles and raised £3,559. This year, we want to make it even bigger and complete the challenge. If we all work together, we know we can do it!