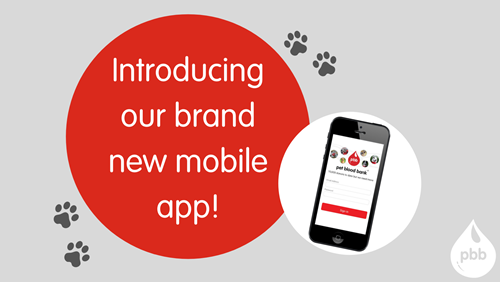 After years in the making, we are so excited to say that our brand new mobile app for donor owners is now ready.
Generously funded by Petplan Charitable Trust, our app will make it quick and easy for you to manage your dog's donations with us as it allows you to book appointments, communicate directly with us, and keep track of your dog's donations and milestones.
All owners already registered with us will receive an email containing a link to activate your profile on the app. You will need to verify your account with us and will then be sent instructions for downloading the app.
Any new owners to Pet Blood Bank will be added to the app as part of our donor registration process as at the moment this is only for registered owners.
The app registration process
You register your dog with Pet Blood Bank, and we complete the donor registration process with you.
We send you an email with a verification link.
You confirm your email and set your password.
We send you an email to confirm your account with instructions on downloading the app.
You download the app and sign in.
You check and update you and your dog's details.
You're all set! You can now book and manage your appointments from the app.
Our app allows you to
Book appointments for your dog.
Keep track of your dog's donations, each dog has their own profile.
Contact us directly keeping all your communication in one place.
We can let you know when we need dogs to donate in your area.]
For more FAQs on the app, please visit our mobile app section.
Important reminder! Once you have downloaded our app, ensure your notifications for it are turned on. This means you will receive notifications from us when appointment bookings open for a session near you, updates about any booked appointments you have, or when our blood stocks are running low and we urgently need dogs to come forward and help.
We're so excited to finally have the app up and running and would like to say a huge thank you to Petplan Charitable Trust for making this dream of ours come true! Developing an app is a big investment so is something we have only been able to do with their kind and generous support.
We look forward to seeing lots of you over on the app.