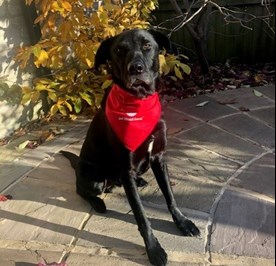 Harry, a Border Collie x Labrador, recently made his first blood donation. Harry's owner, Elizabeth, signed him up after her daughter saw a news article about pet blood donation and thought Harry would make an excellent candidate.
Having never heard of pets giving blood previously, Elizabeth was unsure what to expect, but as Harry is so friendly, she knew he would be happy to go into the vets without her.
Elizabeth said, 'The volunteer assistant who was on 'meeting and greeting duty' was extremely welcoming, kind, and reassuring and the vet answered my queries professionally and was also very reassuring. The vet asked me what sort of treats Harry liked and if there were any commands we used whilst training. Harry was excited to be somewhere new with interesting smells and he went off with the vet, merrily wagging his tail.'

'Harry was brought back out to me just over half an hour later, with a red bandana around his neck and a lovely goody bag containing doggy treats and information for me. He was a little tired that evening, but back to his bouncy, energetic self the next morning.'  She added, 'I feel so proud of Harry and our family and friends have loved hearing his story - so much so, that they have renamed him 'Harry Hero'! Thank you to the staff and volunteer at Wetherby for making our first experience of blood donation such a positive one.'
Elizabeth let us know that she will be bringing Harry along to donate on future occasions as she is so pleased that his blood will help to save the lives of other much loved dogs. She said that Harry seemed to regard it as a fun day out, with many cuddles and treats, so it's a real win-win.
The guidelines in our venues are beginning to ease and more owners are being able to accompany their dogs in the donation room. However, in instances where owners still need to wait outside, we hope this story gives you reassurance of how much our donors enjoy the experience and can manage so well without their owners.
If you know anyone with a happy, confident dog who might make a suitable donor, share Harry's story with them to let them know how well he did.
Find out more about the types of dogs we need to come forward as donors.