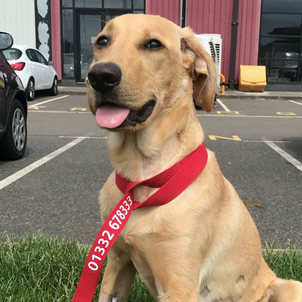 Meet 6 month old Labrador puppy, Nala. Nala, usually a lively pup, had suddenly become very lethargic. After being instructed by their local vet practice, Meadow Lane Vets in Loughborough, to take her temperature, Nala's owners Joy and Guy were told to bring her in straight away as it was very high.
An initial check at the vets discovered that Nala was anaemic and had high respiration and heart rates. She needed to be referred to another vets for hospitalisation and treatment. A local referral practice determined that she would likely need a blood transfusion, but their ICU was full. While contacting another practice, Nala's vet ran some bloods and diagnosed her with Immune Mediated Haemolytic Anaemia (IMHA) – her body was attacking its own blood cells and a transfusion was urgently needed. 
Being so close to our main office and processing centre, a team member from Meadlow Lane came and collected a blood typing kit from us to enable the correct blood type to be ordered. Nala and the blood she needed were then transported to Dovecote Lane Vets where they were on hand ready to treat her.
The following morning, Nala was transferred back to Meadow Lane for monitoring, but her condition wasn't improving. However, there was now room in the ICU for her where she was transferred. Over that week, Nala needed a total of five transfusions to keep her alive until her body began regenerating red blood cells. A few days later, she went home where she will continue her recovery over the next few months.

Joy and Guy said, 'We are so grateful to Pet Blood Bank and your donors, who have helped to save Nala's life.' They added, 'We are also very fortunate our vets was very local to Pet Blood Bank and that you run a 24 hour operation.'
Dogs like Nala need other healthy dogs to donate blood so that it is always there in an emergency like this. If your dog is aged between 1 and 8, over 25kg, and fit and healthy they could be a lifesaver. Visit our dog blood donation pages to learn more.