The Bramble Craddock Award 
Winner: Yohann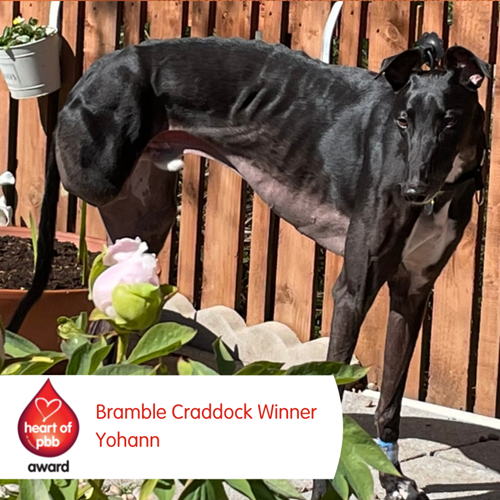 The Bramble Craddock Award launched in honour of our highest donating dog who sadly passed away. Bramble Craddock was a very special dog, who, like many of our donors, will be forever at the heart of Pet Blood Bank.
Another very special dog is Yohann. Yohann started out life as a racer and shortly before his second birthday, he damaged his tendon on track. A further serious injury then led to one of his legs being amputated. This ended his racing career and he was rehomed by his new owners where he settled quickly and became part of the family.
Once rehomed, Yohann went on to become a blood donor and has donated 15 times so far. Yohann is always flying the flag for greyhounds through social media and media features and his story has encouraged many others to donate and get involved with the charity. Yohann has also started taking his sister Mary along to donate with him too.
We'd like to say a huge thank you to Yohann and his owner Amanda for all their hard work, passion, and commitment to Pet Blood Bank. Congratulations and well done!
Runner-up: Nero
The runner-up in the Bramble Craddock category is Nero. Nero donated a fantastic 15 times before recently retiring. He is a lovely natured dog and made such a great donor. We are very proud to have had him as part of our lifesaving pack. A big congratulations to Nero and his owner Linda. 
Fundraising
Winner: Posh Polly Prints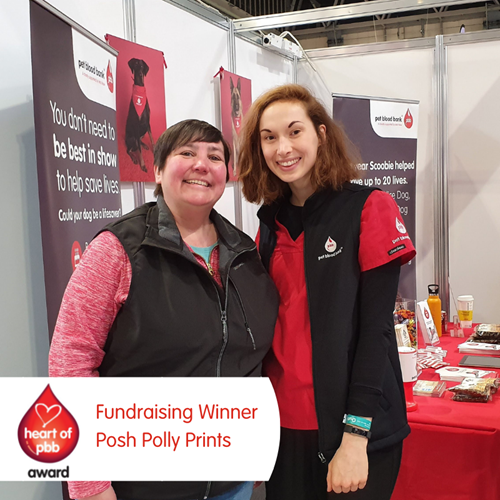 For the winner of our Heart of Pet Blood Bank Award in the Fundraising category – a huge well done and congratulations goes to Rachael at Posh Polly Prints.
Rachael runs Posh Polly Prints along with her husband, Roy. Every year since 2019, we have worked with Rachael to create our fabulous lifesaver calendars. All we need to do is provide the images, and then Rachael and Roy do absolutely everything else. Their efforts have raised around £300 each year, as well as raising awareness and encouraging more people to register their dogs as donors.
Rachael's enthusiasm and professionalism have attracted a lot of positive attention which has led to numerous new donors being registered too. A huge thank you to Rachael and Roy for their amazing support in our lifesaving efforts. 
Runner-up: Beardies United
Beardies United is a Facebook group that celebrates the Bearded Collie breed. Following suggestions from some of their members, the group decided to support Pet Blood Bank with two virtual fundraising events in 2020. The first was their online fun dog show and the second was their Christmas raffle. The support received from both events was huge and the group raised over £1,500 for us. 
A huge thank you and well done to all the group members!
Host Venue  
Winner: Westway Veterinary Group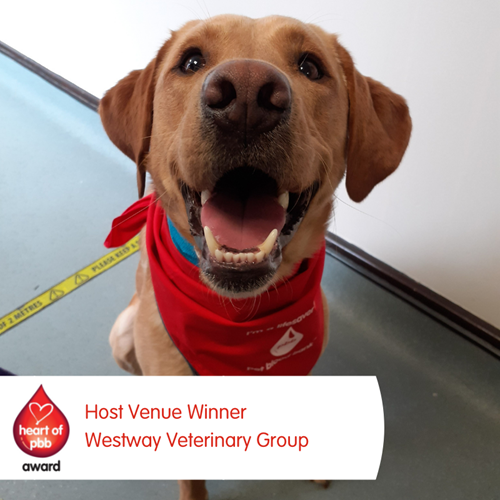 Westways first came on board with us during the height of Covid when our usual venues were unable to host us and have given us so much support since then.
From the very start, our coordinator Mark has gone the extra mile to ensure our sessions run smoothly and are a success. He has helped arrange extra venues, taken in kit deliveries, and worked really hard to get the whole Westways team on board to support the sessions and help with recruiting donors. He is so passionate about what we do and makes the sessions we run at Westways such a pleasure.
A big well done and thank you to Mark and the whole team!
Runner-up: Davies Veterinary Specialists
Davies Veterinary Specialists are one of our longest running host venues, having held their first session for us in 2011!
Our coordinator, Danielle, helps at every donation day, as our session volunteer and does an amazing job. The practice was able to continue their support throughout Covid and Danielle even stepped in as a Donor Assistant when we had staff shortages within our own team. As Davies had been so flexible and supportive through this time, they were chosen as the pilot venue for allowing donor owners back into sessions post-covid and gave helpful advice on which PPE to use which we then brought forward to our other sessions.
Thank you and congratulations to Danielle and the whole Davies team for your longstanding support!
Ambassador 
Winner: Sue Mitchell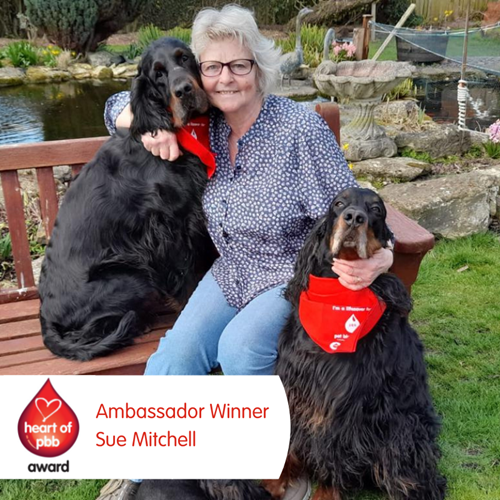 From volunteering at our donation sessions and being on national TV to attending Crufts and helping on our stand, Sue has gone above and beyond over many years to support Pet Blood Bank. Since registering her first dog with us in 2015, Sue has attended every donation session she possibly can meaning that together, her boys have helped to save the lives of up to 280 other dogs! 
Sue also regularly attends events with her dogs proudly wearing their lifesaver bandanas to raise awareness. She has travelled all across the country to support us and nothing is ever too much of an ask. Sue really is an ambassador in the truest form and we are so lucky to have her support. 
A huge thank you and well done, Sue!
Runner-up: Wendy Gray
Wendy has helped to spread the word of Pet Blood Bank through her charity group, Harvey's Army, promoting our work at every event they attend. Wendy's dogs are also donors and along with them, she has been featured in the media many times to raise awareness of our work. 
Congratulations and thank you for your fantastic support, Wendy.