The Bramble Craddock Award
Winner: Wyn
The Bramble Craddock Award launched in honour of our highest donating dog who sadly passed away. Bramble Craddock was a very special dog, who, like many of our donors, will be forever at the heart of Pet Blood Bank.
Another very special dog is Wyn, who we want to recognise today as the well deserving winner of our Bramble Craddock Award, along with his owner Chris Yates. A Saluki x Lurcher, he arrived in his owner Chris' care after being found as a stray and handed into his vet. He had no collar, tag, or microchip and so was put into Chris' supervision for a week, in which time his wonderful personality endeared Chris to adopt him and he joined his big family of rescue dogs, which Chris has fondly named 'The Beastly Beasts'. He had no idea what his name was so after asking him 'what's your name' and receiving a flurry of tail wags, Chris decided to call him Wyn.
Wyn is the perfect companion and a great ice-breaker. On train journeys to Pet Blood Bank and other events, Wyn engages people in conversations (while Chris does the talking) about all the charities he, Chris, and the rest of the gang help to support. Wyn has been a Pets As Therapy dog for many years. He has visited psychiatric hospitals, where he has provided patients and staff alike with lots of attention. He is happy to see everyone and is invariably greeted with big grins and open arms. He even convinced one member of staff who was looking to rehome a dog that it would need to be a Saluki Lurcher. Wyn also visits Hospices and is a Blue Cross Education dog, going into schools and other youth groups to talk with young people about caring for pets and being safe around dogs. The children get the opportunity to come and say hello; Wyn is always brilliant with the children and has helped some to overcome their fear of being close to and stroking a dog. Wyn is also a fantastic ambassador for Pet Blood Bank. On visits and at events, Wyn always wears his red bandana, as he did while on stand duty with us at Crufts in 2019 and 2020.
A fantastic blood donor in his own right, he recently retired having made 25 visits and helping to save the lives of up to 100 other dogs.
This award is just a small token to show our appreciation and gratitude for everything Chris and Wyn have done for us. Thank you.
Runner-up: Stella
The runner up of our Bramble Craddock Award this year goes to Stella. Stella has donated a fantastic 9 times and is still regularly attending sessions in Worsley.
She has also been of great help to owners, Nicola and Lee, by regularly reminding Nicola, who is type 1 diabetic, to take her insulin, and has stopped her from going to sleep when on the brink of a diabetic episode. Stella was intended to become a guide dog when Nicola and Lee originally fostered her, but the continuous disruption brought on by the pandemic meant guide dog schools were closed. Eventually, Stella was withdrawn as she was unable to be placed. She was then adopted and became a wonderful pet dog as well as a lifesaving blood donor. Stella and her lovely story have been featured in the media several times, promoting her work with Pet Blood Bank to a large audience of readers, helping us to raise awareness and ultimately save more lives.
A huge congratulations and well done to Stella and her owners Nicola and Lee.
Fundraising
Winner: Becky Arthur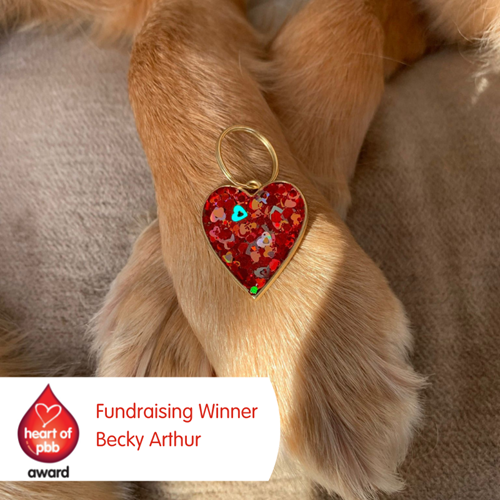 The winner of this year's Fundraising Award is Becky Arthur. Becky has a small business making beautiful dog tags and keyrings. Last Valentine's, she made some lovely heart shaped ones and donated half of the money to Pet Blood Bank. On top of raising over £350, Becky promoted our charity and the fundraising to her thousands of social media followers, introducing an entirely different audience to dog blood donation. This in turn raised a lot of money for us through the sale of tags but also increased awareness and more people registering their own dogs as blood donors. Becky's fun fundraising idea utilised her own skills to create something valuable that people could enjoy while bringing in much needed funds for us.
Becky has three beautiful Golden Retrievers herself and Bailey, who is five years old, has already donated over 20 times at sessions in Edinburgh and Dunfermline. Becky always takes the time to explain the importance of the charity and the process to any other dog owners who are interested.
We hope this award will show how truly grateful we are for all that Becky has done for us. We appreciate it so much.
Runner-up: Pam Tait
The runner up of this year's Fundraising Award goes to Pam Tait. Pam took part in our first Around the Coast in 30 Days challenge and was the top performer, completing a huge 452 miles within the month and raising £300. Her dedication to the challenge was incredible and her commitment to doing as many miles as possible was inspiring and encouraged other people to up their game and complete more.
Pam was an active member of the Facebook group during the challenge and was so lovely and encouraging to other participants. In addition to the 452 miles she completed, Pam raised such a fantastic amount for Pet Blood Bank with her energy and enthusiasm.
Her slogan was 'do it for the dogs' and we think she really did just that and was such an inspiration to us during the challenge.
A huge thank you to Pam.
Volunteer
Winner: Sacha Smith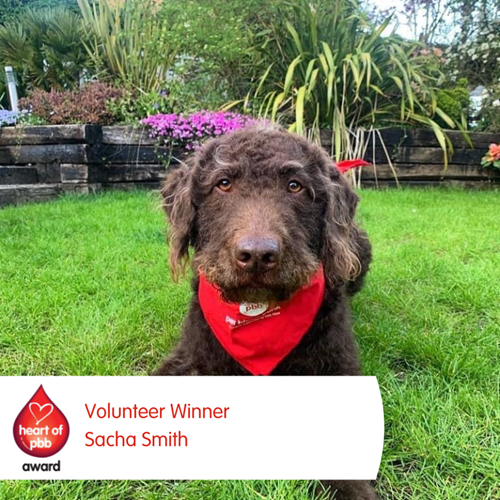 The fantastic winner of our Heart of Pet Blood Bank Volunteering Award this year is Sacha Smith. Sacha has volunteered for Pet Blood Bank both in our office and at our donation sessions during her time studying at Loughborough University. Before going into her final year, Sacha decided to reach out to the university and set up an action project for Pet Blood Bank which would see regular volunteers help out in our office throughout her final year. This project would also become her legacy as it would ensure that we always had student volunteers to help us even after she graduated. This was such an innovative idea of Sacha's and was something she thought would be a huge help to us – and she was right. The university saw how successful the action project was and Sacha was shortlisted for an award for her pioneering idea.

Since 2019, Sacha has been a wonderful support for Pet Blood Bank, supporting donation sessions, as well as our Distribution and Donor Admin Teams. She has amazed us with her compassion and selflessness.
This award is just a small way of expressing our gratitude for all she has done for Pet Blood Bank and all she will continue to do even once she graduates. She really does embody all our core values – thank you so much Sacha.
Runners-up: Wendy and Steve Blake
For this year's Volunteer Award, we would like to congratulate runners up, Wendy and Steve Blake. Wendy and Steve have shown amazing enthusiasm in representing us as volunteers, helping us out at 8 sessions in Gloucester and ensuring they are always covered. They have attended lots of events to promote Pet Blood Bank, including Newbury's Discover dogs and the Cheltenham dog swim for which they organised a Pet Blood Bank stand and stayed with us all day to speak to people and raise awareness. They are also heavily involved in their local community, giving out leaflets and spreading the word in shops and other businesses, while also getting involved in lots of activities with dogs to reach even more people.
They have appeared on the radio and in the media to give interviews and talk about their experience of bringing their own dogs, Dillon and Rufus, to donate blood. Speaking of which, their photography skills are so good that Dillon and Rufus made it into our annual lifesaver calendar, posing for October. We also regularly use their fantastic images to promote the charity.
Wendy and Steve have helped in so many different ways and are deserving of acknowledgement for their wonderful spirit. A heartfelt thank you, from us to them.
Host Venue
Winner: Vets4Pets East Kilbride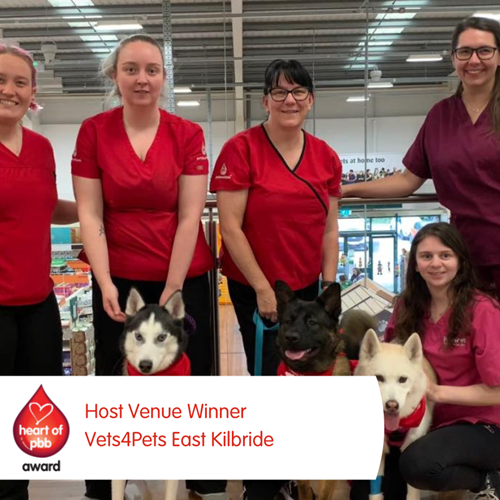 The winner of this year's host venue award is Vets4Pets East Kilbride. Vets 4 Pets East Kilbride have been a host venue for us since March 2020 and since then have hosted 17 successful sessions for us. Lorna and her team at the practice are very much involved in donor recruitment and are always spreading the word to their clients, as well as getting all the eligible staff dogs to sign up. They have also encouraged a lot of the students they have on placement at the practice to sign up to volunteer for their sessions, and we thank them for being so proactive.
A big thank you to Lorna and the whole team.
Runners-up: Animal Trust
For this year's host venue Award, we would like to congratulate runners up, Animal Trust Ellesmere Port. We first started running sessions at Animal Trust's Ellesmere Port branch in December 2020 and they have since hosted 13 wonderful sessions there. Lydia & her team at Ellesmere Port are extremely accommodating and look after the team wonderfully on session days.
Thank you, to Lydia and the whole team. We are so grateful for all the support they have given us.
Ambassador
Winners: Jenny and Stuart Stott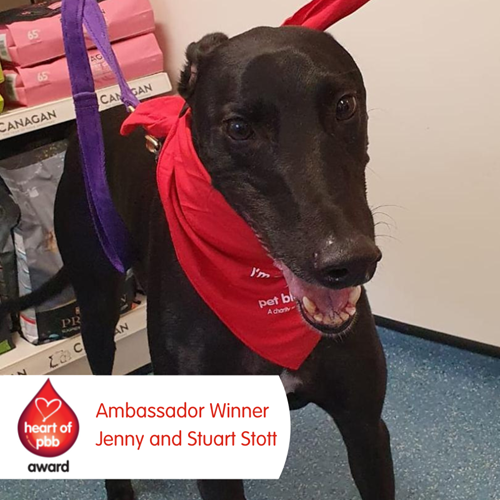 The fantastic winners of this year's Ambassador Award are Jenny and Stuart Stott. Jenny and Stuart have been big supporters of Pet Blood Bank for a long time. They first joined forces with us in 2017 when they started to support our mission, alongside running their own charity, Retired Greyhounds South Lakes. They helped us establish our presence in Cumbria by getting Highgate Vets in Kendal on board as a host venue so that they could bring their greyhounds to donate. Jenny and Stuart have also assisted in building relationships with other Greyhound rescues across the North West and Scotland, acting as a driving force in recruiting hundreds of greyhound blood donors over the years.
They have rehomed over 300 greyhounds across the country and many of them have become blood donors with us. Jenny and Stuart alone have owned 10 greyhounds that have been blood donors and two of those are still donating now. Thor, one of their present greyhounds has saved up to 80 dogs' lives all on his own. Jenny and Stuart have also spread the word in the media with an appearance on the BBC, and continue to work tirelessly to promote Pet Blood Bank through their own work with retired greyhounds.

Thank you, Jenny and Stuart. 
Runner-up: Laura Bailie Law
The runner up of this year's Ambassador Award is Laura Bailie Law. Laura is an amazing advocate of her favourite breed, Golden Retrievers, and loves to spread the word about how they make such brilliant lifesavers. Her dog, Missy has been filmed for STV, and photographed and interviewed for national newspapers, and Laura has been there alongside her telling viewers how other Golden Retrievers can be lifesavers too.
On two occasions, Missy has had her blood go straight from the donation room to the intensive care unit at Dick Vet Hospital for Small Animals in Edinburgh where she donates to be used for a whole blood transfusion. Laura got the opportunity to meet one of the dogs (and owner) who Missy helped to save so she could say thank you to Laura for all that she has done.
Laura and Missy are both wonderful ambassadors of Pet Blood Bank's work and this award is for the human half of the duo – thank you Laura.