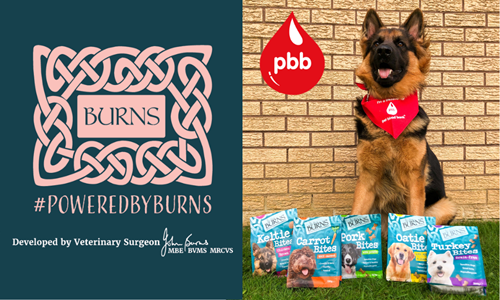 The yummy treats in our goody bags are generously sponsored by Burns Pet Nutrition.
Why we love Burns
They use only high quality, natural, and healthy ingredients (locally sourced where possible)
They are caring and give back, supporting many charities and rescues every year along with having their own charity foundation
They are a fellow Living Wage employer
The treats are designed by vet surgeon and founder of Burns Pet Nutrition, John Burns
Check out the varieties
Burns classic Keltie bites with chicken and brown rice
Pork with potato bites
Grain-free turkey bites
Oatie bites with apple and chamomile
Carrot bites, which are 100% carrot!
Thank you, Burns
As a small charity, every bit of help we can get to keep our costs down makes a huge difference. Having our treats generously provided by Burns means we can save money and provide a much higher quality, delicious treat for your dog. We are very grateful to Burns for their support.
Share the love
We'd love to see photos and videos of your dogs enjoying their Burns treats, tag us on social media and use #PoweredByBurns to spread the word.
Use your discount
Remember to pick up your discount card at your next donation session to get 30% off Burns treats and food. Visit their website to check out the whole range and stock up on your lifesaver's favourites.