Meet our 2019-20 Heart of Pet Blood Bank Award Runners up
The Bramble Craddock Award Runner up: Flash
The runner up of our Bramble Craddock Award this year, goes to Flash with his owner Chris. Flash is a Pets as Therapy dog and has been visiting people with various mental health conditions for over six years. While helping at events such as Crufts, Discover Dogs and attending dogs shows, Flash always wears his Pet Blood Bank tag, lead, and bandana. As well as all of this, he donated over 20 units of blood to Pet Blood Bank before retiring. A big well done and thank you to you both.  
Fundraising Award Runner up: Rachael Pollard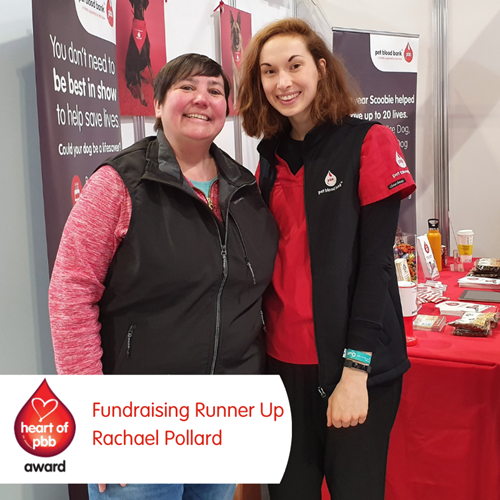 The Fundraising Award runner up this year goes to, Rachael Pollard. Rachael and her husband Roy run Posh Polly Prints and worked with us to create a 2020 calendar to raise money for the charity. All we had to do was source the images and then they took over and organised everything else, making a beautiful calendar and posting out all our orders, which takes a huge amount of work. A huge thank you and well done to Rachael and Roy.
Volunteer Award Runner up: Sacha Nicole Smith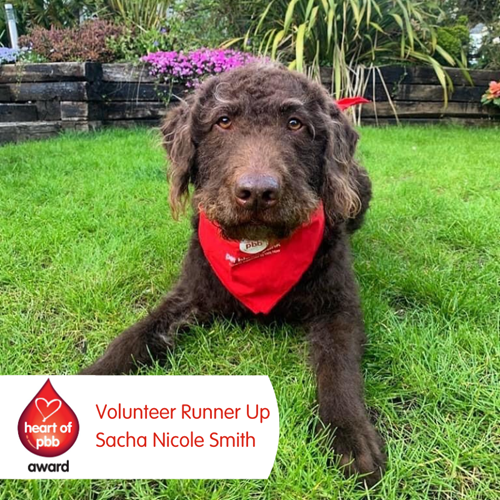 The runner up of our Volunteer Award this year goes to, Sacha Nicole Smith (represented here by her gorgeous dog Alfie!). For her Gold Duke of Edinburgh Award, Sacha chose to volunteer with us and helps in the office and at donation sessions, all while working on her degree. Sacha takes every opportunity to raise awareness of our work, spreading the word on social media and supporting all our appeals. She is so passionate about what we do and is such a valued extension of our team. Thank you, Sacha, for all your hard work and commitment.
Ambassador Award Runner up: Joan Edwards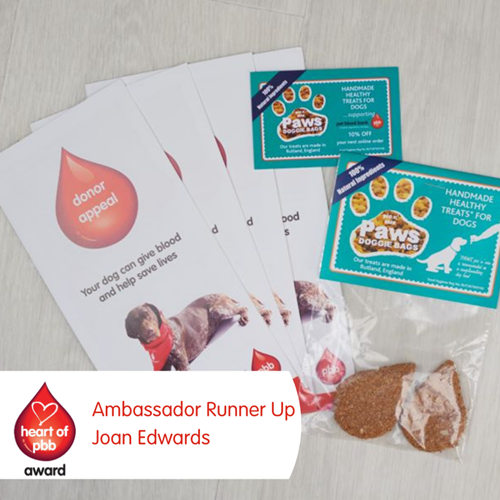 Our Ambassador runner up this year goes to, Joan Edwards. Joan used to own a dog treat company called Paws Doggie Bags and every month, she donated handmade treats for our donor goody bags. Joan also went the extra mile by promoting Pet Blood Bank on her website and at events. Joan has since sold her company on but because of all the hard work and passion she put into supporting Pet Blood Bank, the new owner continues to support us by donating treats and helping to raise awareness. Congratulations and thank you, Joan.
Host Venue Award Runner up: Lawrence Veterinary Centre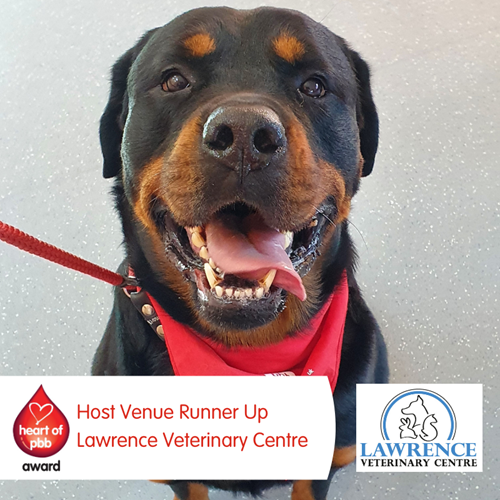 This year we have two Host Venue runners up, Pool House Veterinary Hospital and Lawrence Veterinary Centre. Both practices have worked with us since 2013 and really do go above and beyond to facilitate our donation sessions, recruit new donors, and support our work. The coordinators we have at each practice are a joy to work with and always work hard on making their donation days a success. Thank you and well done to the whole teams at Pool House and Lawrence!
Host Venue Runner up: Pool House Veterinary Hospital