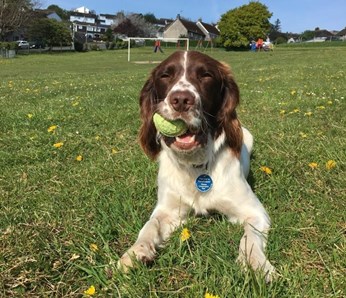 Springer Spaniel Rollo, who will be turning two in July, recently received a blood transfusion after being diagnosed with IMTP (Immune Mediated Thrombocytopenia) a few weeks prior and had not been himself or responding to treatment as hoped. 
The blood transfusion gave Rollo the boost he needed to allow his vets to complete some further investigation, returning a large portion of his usual energy. The transfusion took place at Northwest Veterinary Specialists near Runcorn and his owners Caroline and Michelle are very grateful to them and their local vets for the excellent care Rollo received over the past few months.
Caroline said, 'We had no idea Pet Blood Bank even existed but are very glad that you do and are very grateful to the donor dogs and owners for their generosity! Thank you for all your hard work.'
Rollo is still undergoing treatment for his IMTP, however, since his blood transfusion, he has recovered from the anaemia which had been brought on by this condition. We are so pleased he is now back to his usual happy self and doing all the things he loves to do. 
In the lovely photo of Rollo, you can see him proudly wearing his transfusion tag. Caroline let us know that the tag has been a great talking point when out on walks. She has spoken to a lot of people who were completely unaware that Pet Blood Bank exists, just as she was before Rollo needed blood.
Dogs like Rollo rely on blood being available in these life-threatening situations and we aim to ensure this is always the case. However, we need more dogs to come forward and give blood to meet this aim. If your dog is fit and healthy, between 1 and 8 years old, weighs over 25kg, and is confident, they could become a blood donor. To help dogs like Rollo, find out more about your dog becoming a donor or the other ways you can get involved.